SUMMARY
Air India now operates all non-stop flights between Mumbai and the US with newly acquired Boeing 777 aircraft.
Mumbai now benefits from enhanced US connections because of Air India's network expansion over the last year.
Air India's fleet expansion includes leasing Boeing 777s to increase capacity and improve passenger experience.
Passengers flying between Mumbai and the US on non-stop Air India flights can now be assured of upgraded cabins, different from those they're used to seeing on the carrier's regular widebody planes. The airline operates the Mumbai-US routes exclusively with its newly acquired Boeing 777 aircraft on lease. These planes earlier flew for other major global carriers and still have previous cabin layouts.
Mumbai gets newly inducted aircraft
For the longest time, Air India focused on enhancing capacity to the US from New Delhi. Mumbai (BOM), India's second-largest airport and a commercial hub, was largely ignored by the carrier due to its limited fleet. But Air India seems to have made up for its snubs by not just enhancing the US network out of the city but also deploying its newly acquired Boeing 777 aircraft.
All three of Air India's non-stop US routes out of Mumbai – New York (JFK), Newark (EWR), and San Francisco (SFO) – now see its newly inducted B777 aircraft. Travelers on these flights can be assured of different and more modern seats than what they're used to seeing on regular Air India widebody planes.
Check out Mumbai-New York JFK flights here.
The airline serves the Mumbai-San Francisco and Mumbai-JFK sectors with Boeing 777-200LR aircraft, featuring 28 business, 48 premium economy, and 212 economy class seats. Its Mumbai-Newark flights are served by Boeing 777-300ER plane, offering eight first class, 40 business, and 280 economy class seats. The airline has also upgraded its Mumbai-London service with a new 777-300ER on one of the flights.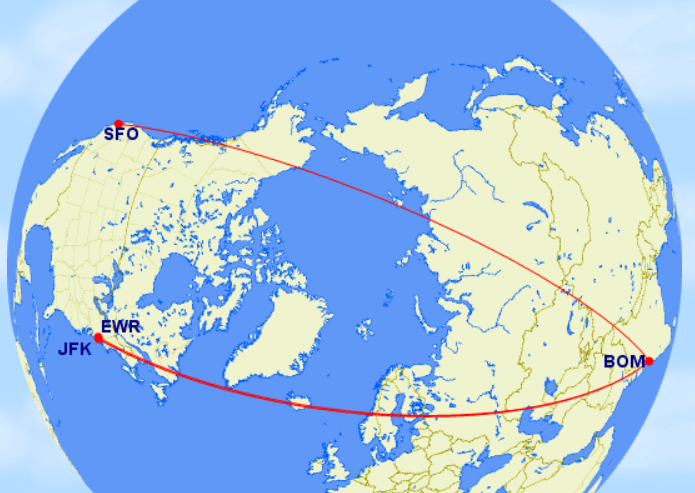 Photo: Gcmap.com
Leased Boeing 777s enhance capacity
Air India is in an aggressive fleet expansion mode. While it has placed a large order of both narrowbody and widebody aircraft, it is also inducting new planes on leases as well as fixing grounded fleet for immediate capacity enhancement.
The airline has now received five Boeing 777-200LRs previously belonging to Delta Air Lines, as well as two Boeing 777-300ERs that once flew for Etihad Airways. The plan is to get 14 leased Boeing 777-300ERs by March 2024 to double down on its long-haul network. Three of these 777s will also come from Singapore Airlines. Commenting on its recent fleet development, the carrier's CEO Campbell Wilson said,
"We are delighted to now offer an elevated experience on all routes from Mumbai to the United States, and to upgrade one of our London services. This is part of the ongoing product transformation underway at Air India, with 7 new B777s inducted over the last year to be followed by 4 more, along with 6 new Airbus A350s, over the coming months. All of these aircraft feature much-improved interiors and pave the way for the full interior upgrade of our entire widebody fleet commencing in the middle of 2024."
Air India's shabby cabins have been one of the biggest pet peeves for its passengers. Thankfully, the efforts of its new owners to fix those issues are gradually bearing results.