SUMMARY
Air Senegal will no longer serve Dakar to Barcelona, Lyon, Marseille, or Milan.
Only its core route to Paris will remain.
Elsewhere, Air Senegal's New York JFK service may also change due to its poor seat load factor of just 67% in the first nine months of 2023, per the US Department of Transportation.
SIMPLEFLYING VIDEO OF THE DAY
It is rare for an airline to cut nearly all of its network to a particular continent, but that is what Air Senegal has done to Europe. According to Aeroroutes, it has removed three of its four routes. It follows increased competition from carriers with stronger economics, and a payload restriction on its most commonly used equipment, undermining route performance.
These will all be gone in January
As confirmed on Air Senegal's website and in other booking engines, these routes cease to exist in mid-January. Cirium data indicates they were all reinstated during the northern aviation winter 2020 season. As Air Senegal targets connecting passengers over Dakar, particular intra-African routes may also be impacted.
Dakar-Barcelona: twice-weekly Airbus A319
Dakar-Marseille-Lyon (triangular): twice-weekly; presently using the A321 per Flightradar24, mixed with the A319; it was fully A319 until earlier this year and is scheduled to be by the smaller single-aisle equipment
Dakar-Milan Malpensa: twice-weekly A321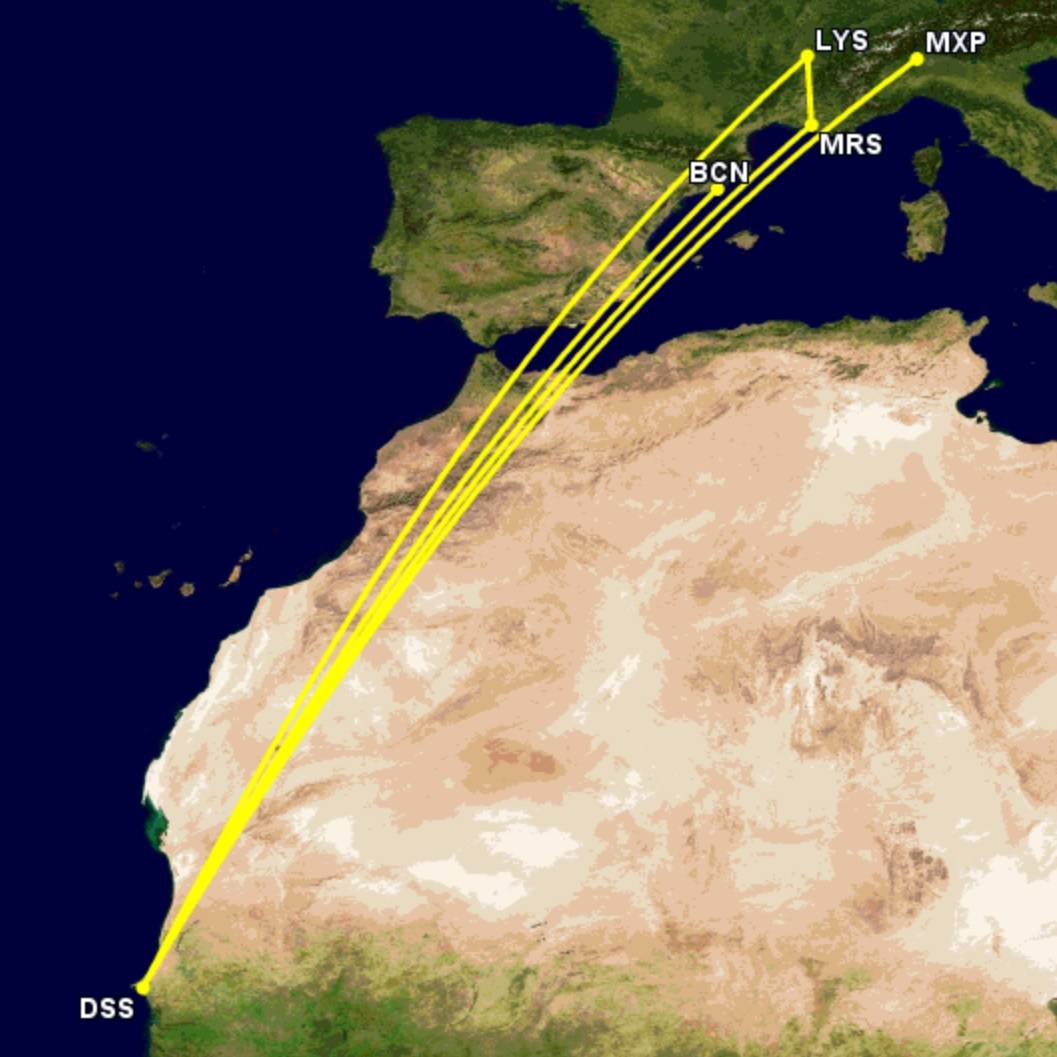 Image: GCMAP
But the traffic is good
In the 12 months to September 2023, booking data suggests that Dakar-Milan had about 140,000 roundtrip point-to-point passengers, Barcelona 79,000, Lyon 58,000, and Marseille 51,000. P2P demand should underpin routes, even if they also carry transfer passengers.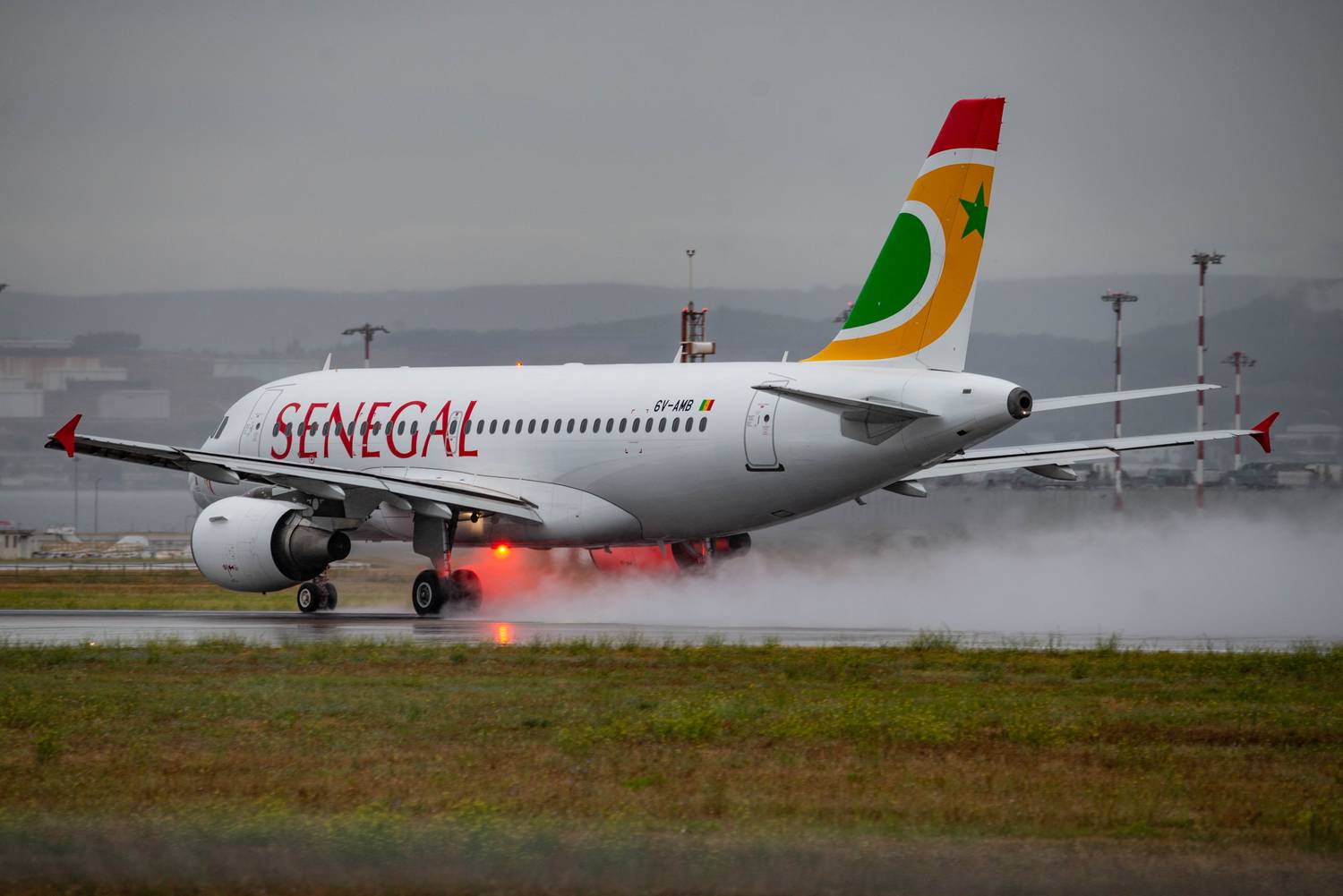 Photo: France Aviation | Flickr
One of the problems is competition. Air Senegal competes directly with Vueling to Barcelona, Transavia France non-stop to Marseille and Lyon, and Neos to Milan Malpensa.
Changing competitive dynamics
When Air Senegal inaugurated Lyon and Marseille, both were unserved, so it had a monopoly on non-stop service. Hopefully, that was reflected in its fares. Things changed in November 2022 with the launch of Lyon-Dakar by Transavia, followed by the inauguration of Marseille in May 2023.
Until recently, Air Senegal often used the two-class, 120-seat A319 to the French cities, and it continues to do so to Barcelona. Despite low capacity and assuming that flights are sufficiently full, these are believed to have a payload restriction.
Inevitably, this means higher seat-mile costs and fewer passengers with which to attempt to break even, which necessitates higher fares. At the same time, it has more competition with better economics.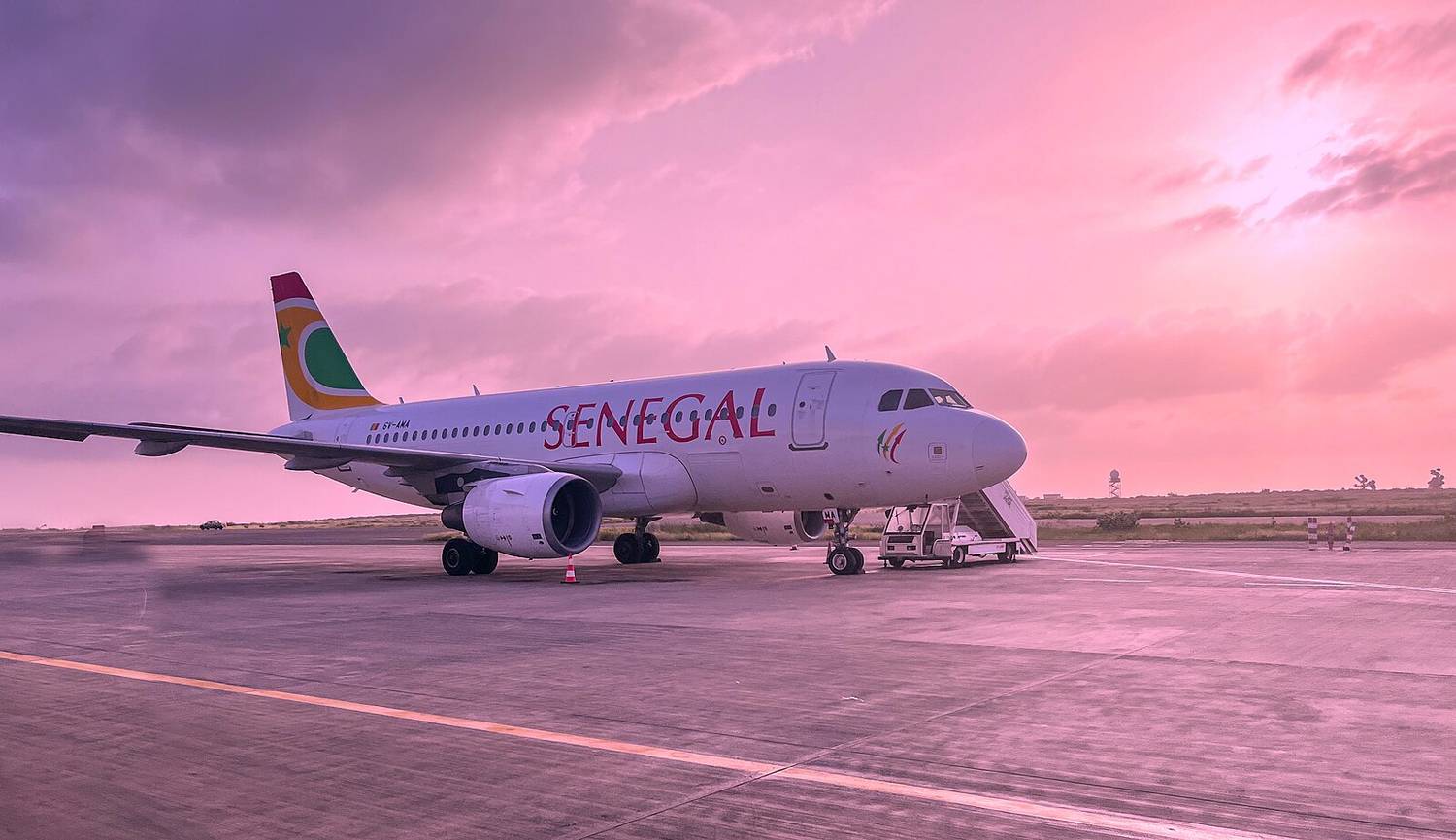 Photo: Aboubacarkhoraa | Wikimedia Commons
Transavia uses 189-seat 737-800s with 58% more seats for sale, meaning notably lower seat-mile costs and requiring fewer passengers to break even at a given fare. It operates non-stop from both Lyon and Marseille against Air Senegal's triangular service.
While Air Senegal runs twice-weekly, Transavia is five weekly: three weekly from Lyon and twice-weekly from Marseille. This has significant competitive implications for the Senegalese flag carrier.
You could also argue that Transavia has a more enticing schedule, with daytime flights in both directions. In contrast, Air Senegal leaves Dakar for Marseille/Lyon at 01:00, designed to capture transit passengers.
Only Paris will remain in Europe
When writing on November 20th, only Paris CDG is expected to see Air Senegal. The Airbus A330neo service will remain daily except for a six-weekly operation in January/February.
HC403 leaves Dakar at 00:45, and HC404 arrives back at 15:00, facilitating two-way connections to Abidjan, Bamako, Banjul, Cap Skirring, Conakry, Freetown, Nouakchott, Praia, and more.
What do you make of it all? Let us know in the comments.
Sources: Aeroroutes (for the announcement), Cirium, OAG, Flightradar24, ch-aviation, booking data, US DOT T-100.