Unsurprisingly, Emirates is behind a significant chunk of the recovery.
It seems as though the Airbus A380's recovery continues. According to current schedule data, the number of flights operated by the giant of the skies is set to surpass 50% of pre-pandemic levels by the end of the year. However, it is possible that the schedule could change somewhat in the meantime, with planned A380 returns being pushed further down the line.
Some love it while others hate it, though there is no doubt that the Airbus A380 is a marvel of aviation engineering. Many airlines culled their Airbus A380 fleets during the pandemic, though an increasing number are bringing the type back. Emirates' A380 recovery has led the way – unsurprising given the airline's lack of other options – though other airlines are gradually increasing their market share.
A massive COVID-19 casualty recovering
In terms of aircraft types, the Airbus A380 was one of the most significant casualties of the COVID-19 pandemic, with every airline bar China Southern Airlines grounding the giant of the skies. This meant that just 43 flights were scheduled in June 2020. While different COVID-19 variants tried their best to push back the A380's recovery, the number of flights with the double-decker has been rising month to month.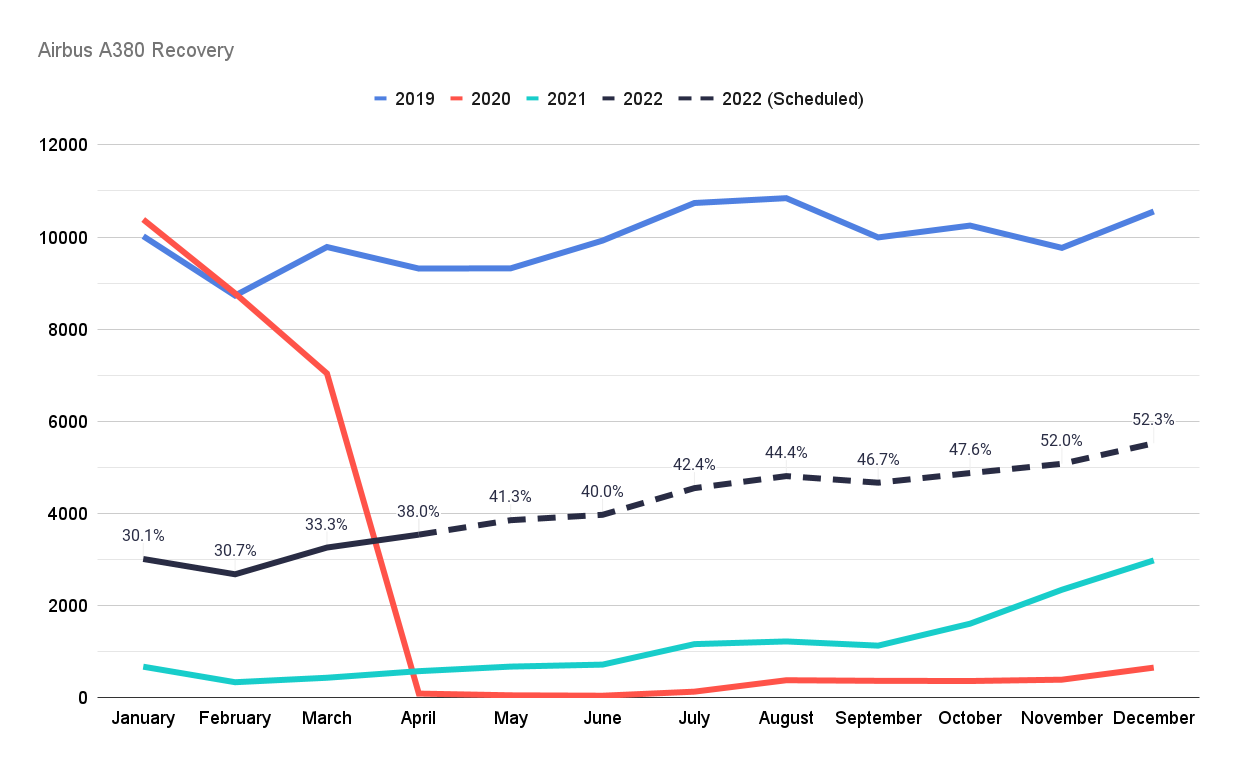 The A380's recovery is scheduled to steadily progress this year. Figures show the percentage of 2019 levels. Data: Cirium | Graph: Simple Flying
According to schedule data from Cirium, there were 3,259 Airbus A380 flights scheduled in March 2022. This represents a 7,500% increase in the 43 A380 flights operated in June 2020. However, it is still a significant decrease compared to 2019's March traffic figures. With 9,783 Airbus A380 flights scheduled in 2019, last month sat at just one-third of pre-pandemic schedules.
Further Airbus A380 recovery coming
The story doesn't stop there. Additional Airbus A380 services will join the schedule over the coming nine months. The A380 should hit 40% of its 2019 flight schedule in May this year. In November and December, the number of A380 flights planned exceeds 52% of 2019's figures.
Of course, we need to put a huge disclaimer here! December is still over half a year away and part of the next IATA season. According to the schedule, ANA is set to resume Airbus A380 flights in July 2022, with Asiana Airlines following the schedule change in October. Asiana Airlines previously had the A380 on the schedule from March, though it removed the giant jet from its flight plans until October as late as mid-January.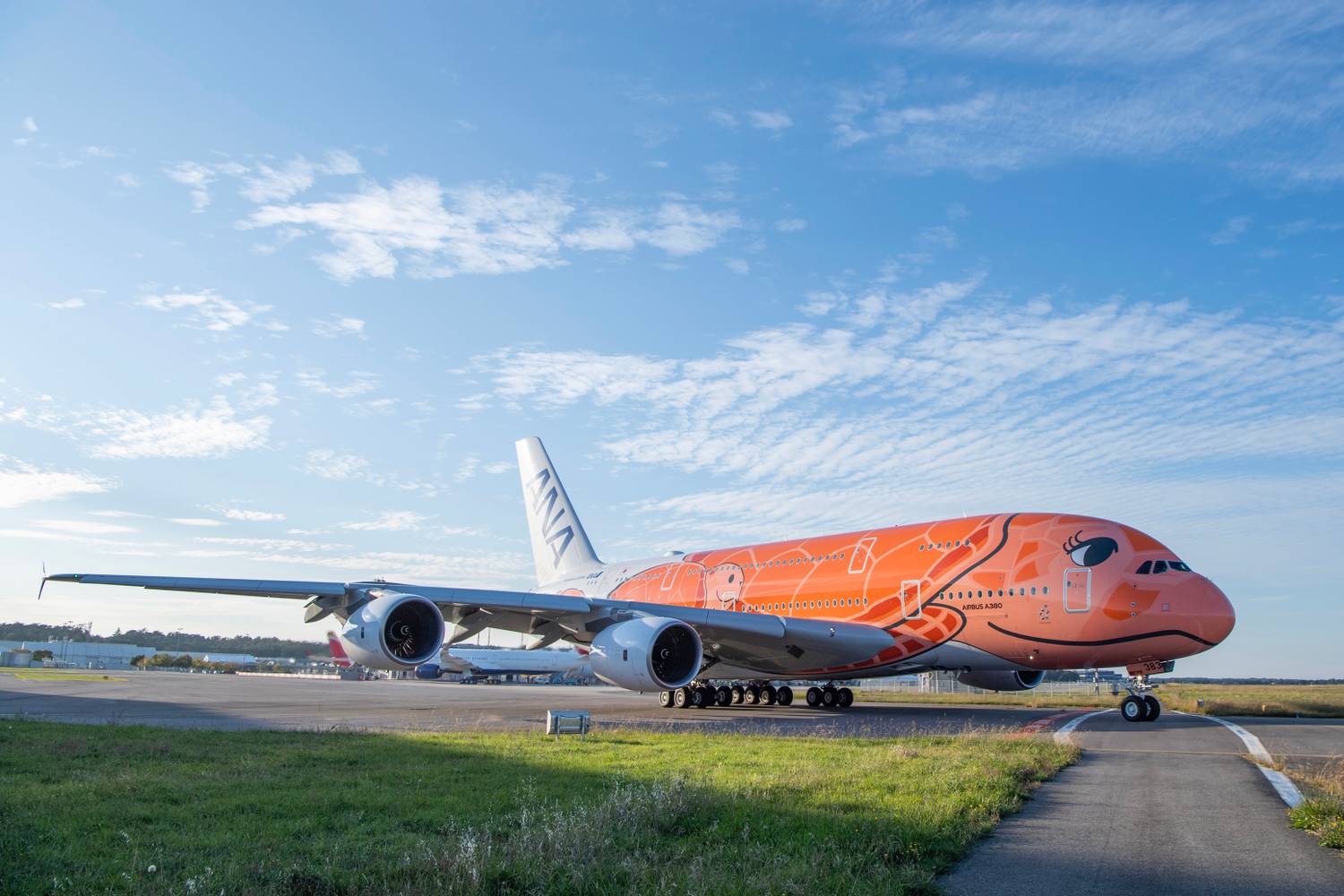 ANA's Airbus A380s are back on the schedule from July. Photo: Hervé Goussé – Master Films via Airbus
Emirates is losing Airbus A380 market share
In April 2022, Emirates has 2,717 A380 flights planned. According to the schedule, this will increase by around 1,000 to 3,769 in December. Interestingly, while Emirates is adding around 1,000 flights over the next nine months, its share of the Airbus A380 schedule will actually decline as other airlines increase their use of the jet. In March, Emirates was responsible for 81.5% of all flights with the giant aircraft. However, by December, barring future schedule changes, this will drop just over 13% to a 68.3% schedule share.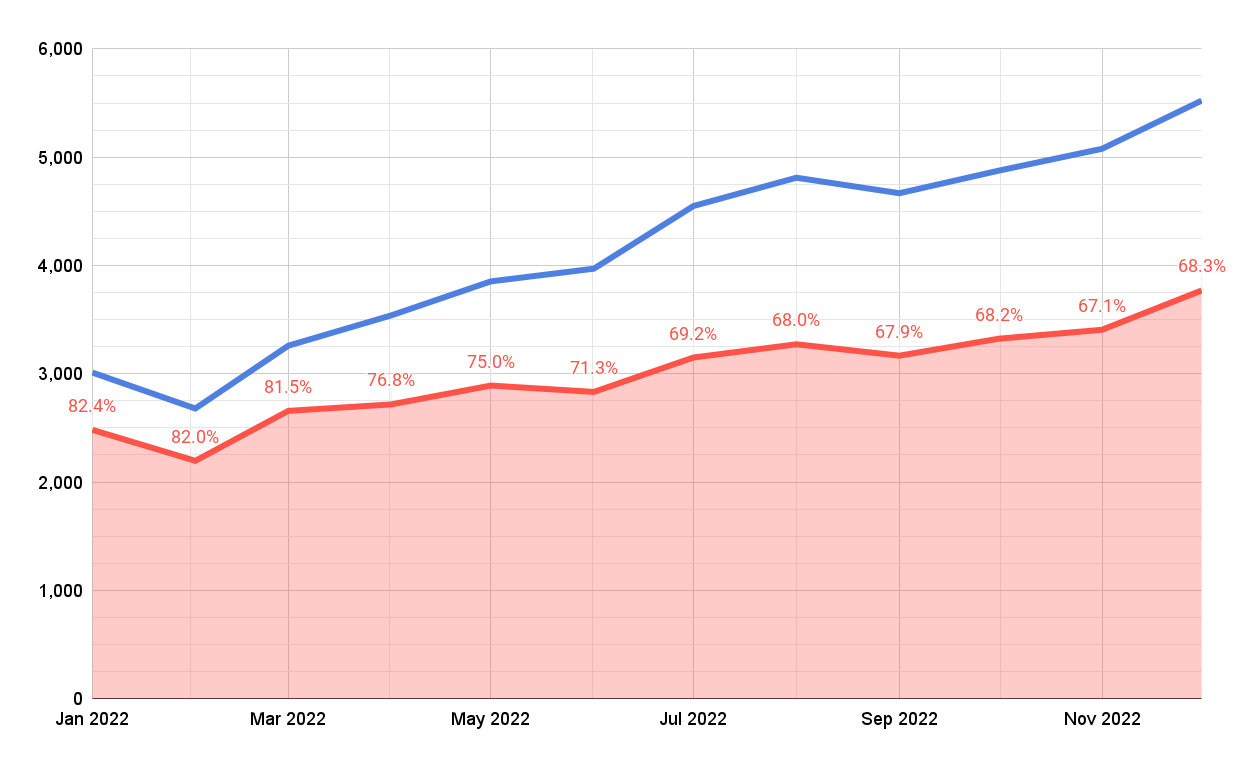 Emirates' planned Airbus A380 flights (red) shown as a portion of total scheduled A380 flights (blue). Data: Cirium | Graph: Simple Flying
Singapore Airlines is the main airline set to steal market share from Emirates, with the inaugural A380 customer claiming 15.7% of flights in December. The impact of ANA, Asiana Airlines, China Southern, and Korean Air is negligible. British Airways' schedule is set to shrink over the winter season as things currently stand, though Qantas and Qatar will hold similar-sized chunks of the market to British Airways in the final month of the year.
How many Airbus A380s are active now?
Airbus delivered its 254th and final A380 to Emirates late last year. Unfortunately, while the oldest aircraft are still reasonably young by commercial aircraft standards, they are still facing retirement. According to ch-aviation.com, today, 93 of these aircraft are listed as active. This corresponds to around 37% of all A380s built.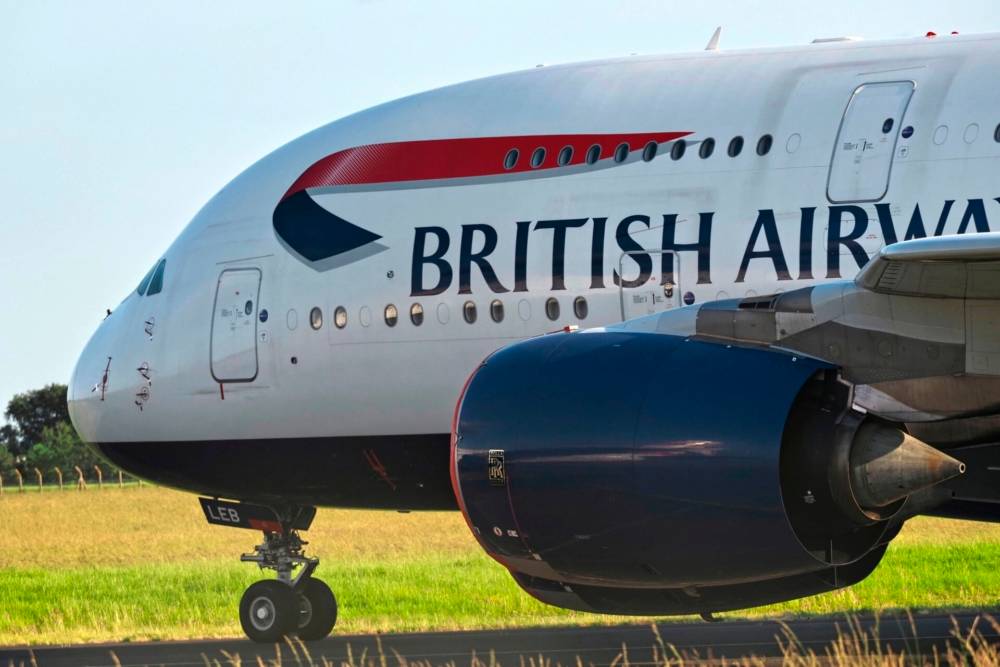 Eight of British Airways' Airbus A380s have returned to service. Photo: Getty Images
67 of these active Airbus A380 aircraft are operated by Emirates. The remaining 25 operational aircraft break down as follows,
Airbus – 1
British Airways – 8
China Southern Airlines – 1
Korean Air – 1
Qantas – 2
Qatar Airways – 4
Singapore Airlines – 9
Over the coming months, this number will increase even further alongside the uptick in scheduled Airbus A380 flights. Qantas, for example, will need more Airbus A380s to place the type on its route to London this summer.
Thankfully, most of those not being flown are simply in long-term storage. The portal lists 152 aircraft as in storage or maintenance. Nine aircraft are listed as scrapped or written off, or put on display at museums.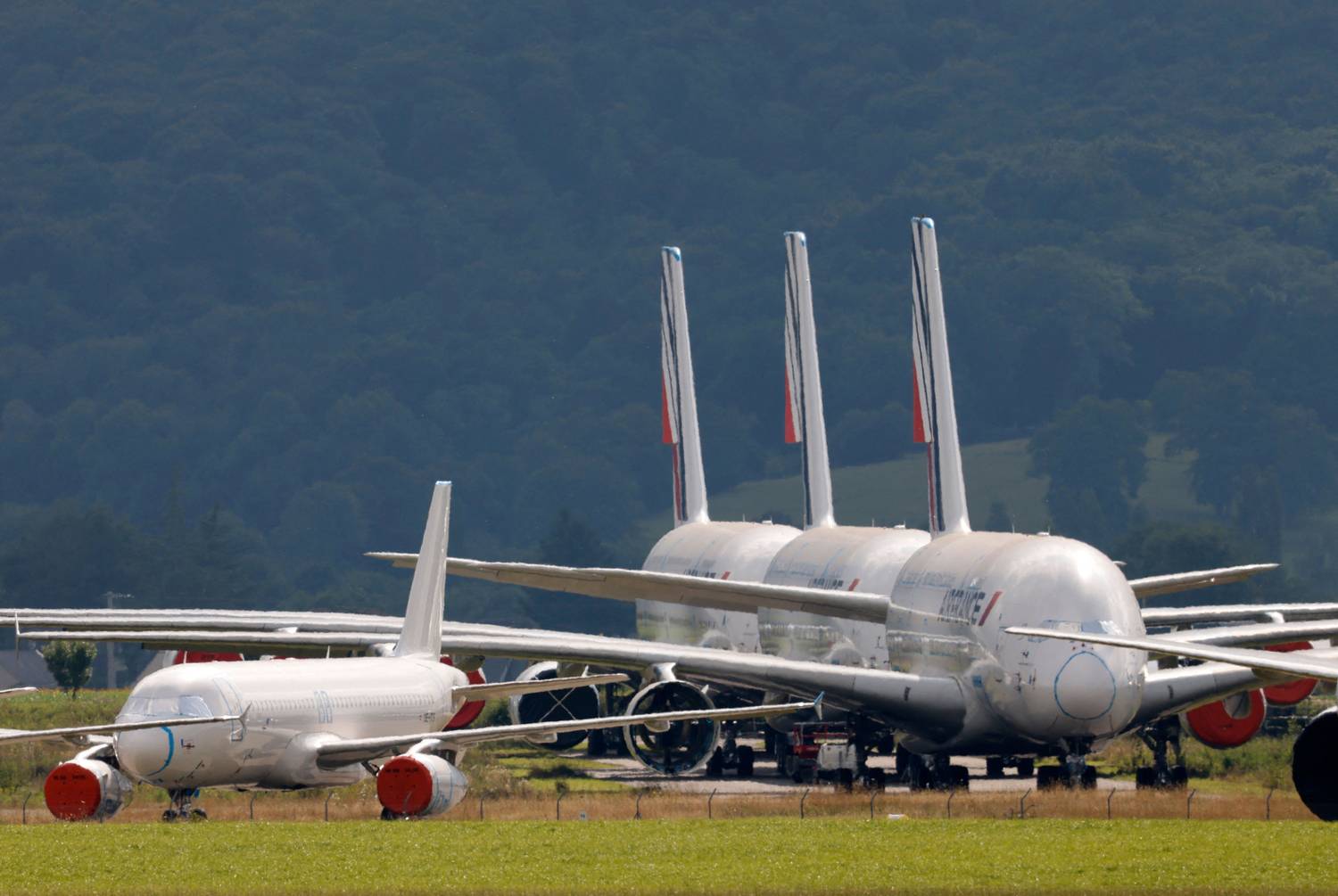 Some Airbus A380s will never return to the skies. Photo: Getty Images
Never reaching pre-pandemic flight levels
While the Airbus A380 is steadily returning to the skies, it won't ever reach the levels of flights managed before the pandemic. The reason is that many airlines have retired all or part of their fleets. Air France and Lufthansa have no plans to fly the giant of the skies again, while Singapore Airlines culled its fleet. Malaysia Airlines sought to sell its jets on LinkedIn, and Hi Fly declared its A380 wet lease project a failure. Etihad Airways also seems unlikely to fly the type again but hasn't ruled out doing so.
While it continues to fly the A380, Qatar Airways has been clear that it would rather not do so. The future of the A380 seems to be ensured by just a handful of airlines, though with plenty of aircraft not likely to fly again, there will be plenty of spare parts to go around.

Emirates is expected to continue flying the A380 into the mid-2030s. Photo: Lutz Borck – Airbus
British Airways looks pretty committed to the type. Last year it signed maintenance agreements for all 12 jets that will extend into 2027 if not renewed. Emirates will likely be the last A380 operator, having taken delivery of its last jets just last year. It's unclear when exactly it will retire the double-decker, though this will likely be in the 2030s. Last week Emirates President, Sir Tim Clark, revealed that the A380's decline was his single biggest problem.
How far do you think the Airbus A380 recovery will go? Let us know what you think and why in the comments!