Kenyan low-cost regional carrier Jambojet is turning to smarter systems as one step towards a greener future for African aviation.
Kenya's low-cost regional airline, Jambojet, will use a new flight planning system to help optimize flight plans, cut fuel consumption and reduce emissions.
Jambojet, a brand of Kenya Airways, was launched in 2014 to operate domestic routes in Kenya. From its base at Nairobi's Jomo Kenyatta International Airport (NBO), Jambojet flies eight routes across the country.
It also operates three more routes from its secondary hub at Mombasa's Moi International Airport (MBA). From Mombasa, Kenya's second-largest city, Jambojet has connections to Kisumu, Eldoret and Lamu.
Jambojet is keeping Kenya connected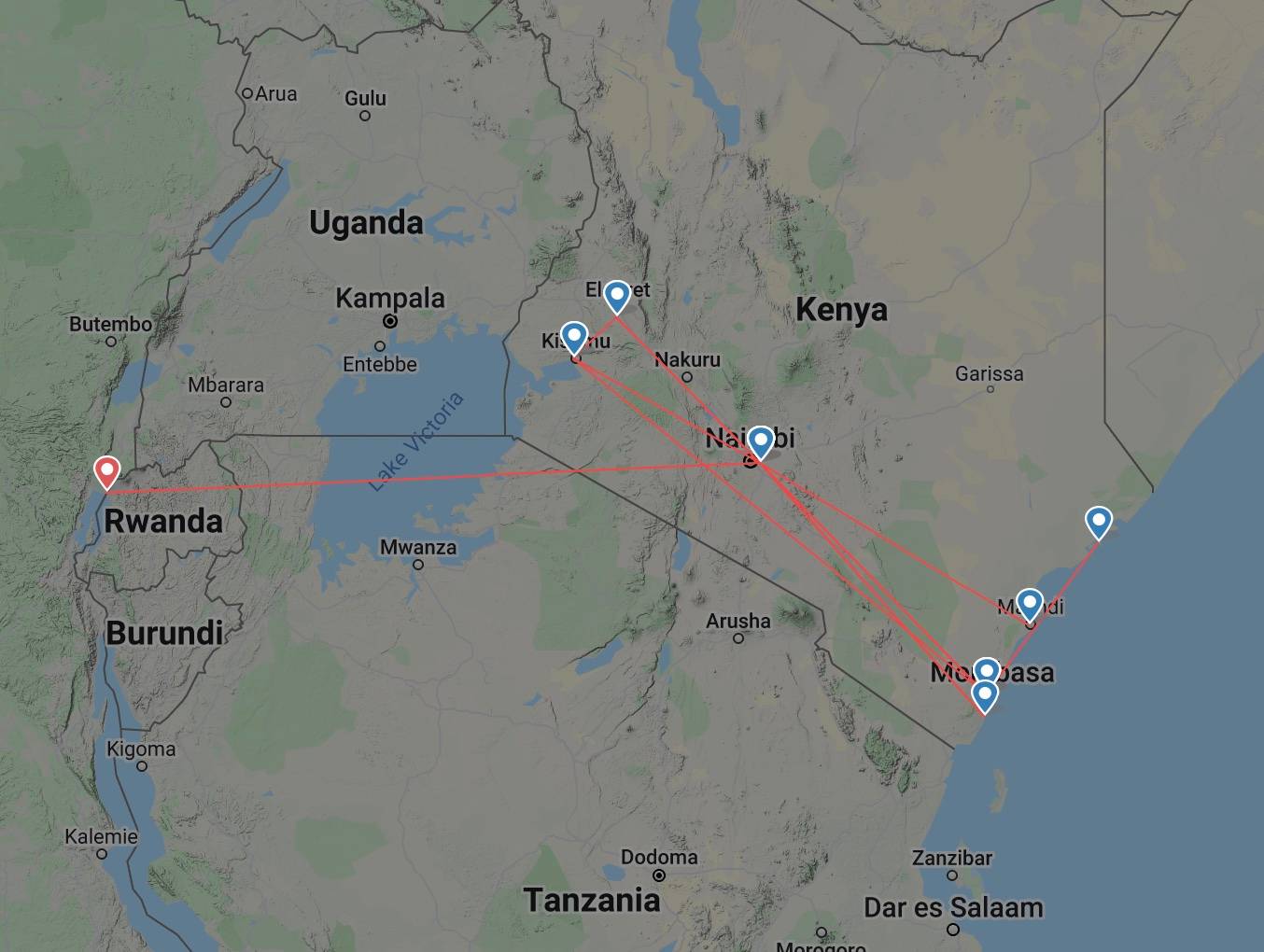 From its bases in Nairobi and Mombasa, Jambojet is using Q400s to keep Kenya connected.
Its destinations from Nairobi include regional centers such as Mombasa, Malindi, Kisumu and Lamu. It also has an international route to Goma in the Democratic Republic of Congo, on the shores of Lake Kivu and near the border with Rwanda.
The airline operates six De Havilland DHC-8-400 aircraft, with an average age of just four years. They can seat 78 passengers in a one-class 2 x 2 layout, with a seat pitch of 30 inches.
In 2021 Jambojet introduced a wireless in-flight entertainment that passengers can access through their electronic devices. The service, provided by Global Onboard Partners, has videos, games, reading material and dynamic maps, keeping passengers entertained during the average flight time of one hour.
The new operations system is from Laminaar Aviation Infotech, an applications software solutions and consulting services provider to the global aviation industry. Jambojet has chosen ARMS, a comprehensive solution tailor-made to suit airlines, business aviation, airports, air navigation service providers and defense.
Headquartered in Singapore, Laminaar also has offices in Mumbai, Bangalore and Denver, US. It has more than 475 technical people and 70 aviation clients worldwide.
Laminaar clients include Air India, Singapore Airlines, Spicejet, AirAsia and Kenya Airways.
ARMS is a fully integrated solution for strategic and tactical planning, operational scheduling and real-time dispatching.
The system is designed so airlines and airports can optimize their essential resources and be agile enough to handle their dynamic environments.
Optimized flight planning will help cut emissions
The new system will cover the needs of both Jambojet and Kenya Airways. It will service the joint fleet of 40 aircraft, including Boeing 737 and 787, Embraer E190 and DHC Q400 aircraft.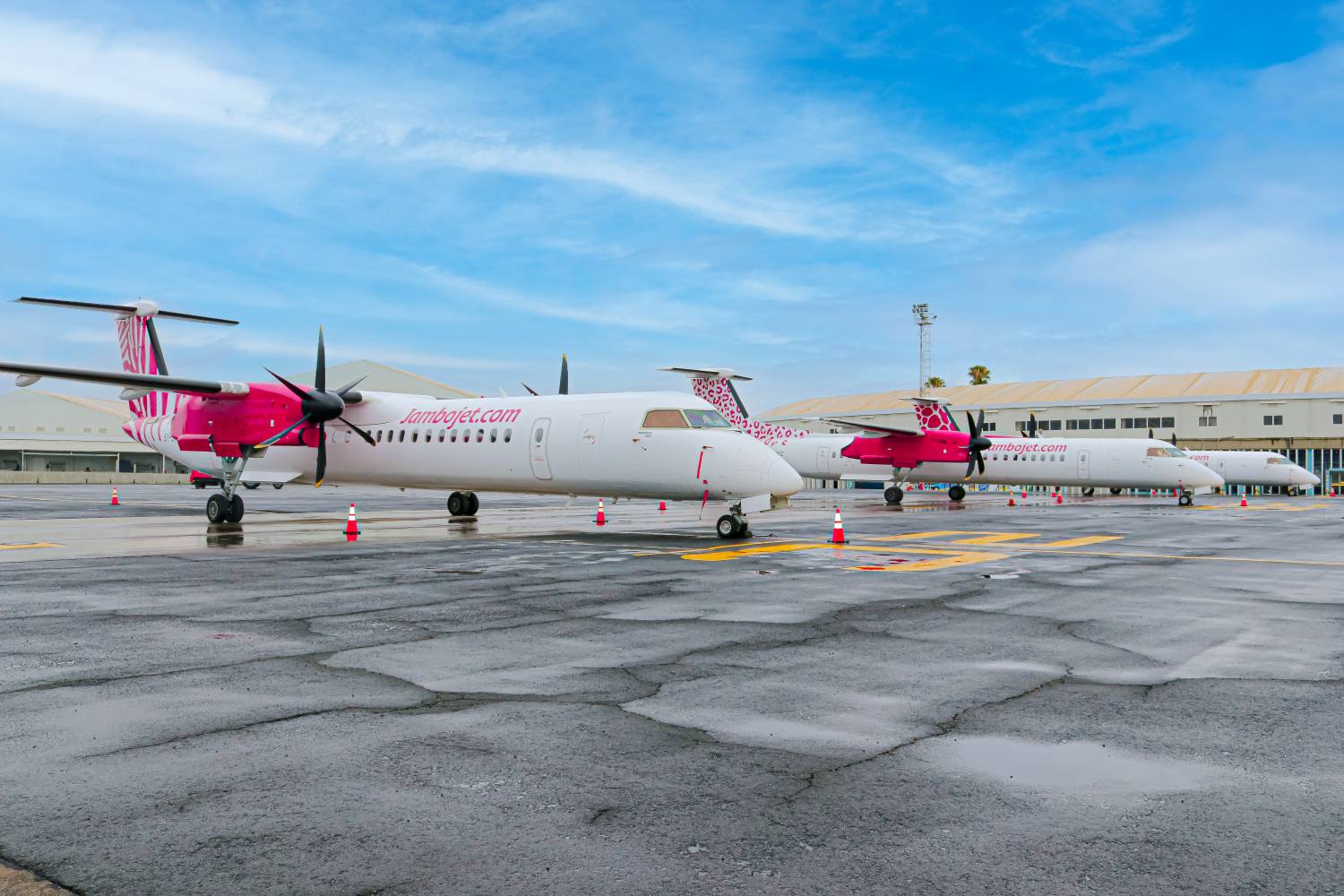 The new Laminaar system will optimize flight planning for Jambojet's fleet of six DHC-8-400 aircraft. Photo: Jambojet
With emissions reduction and sustainability a pressing issue for airlines, flight planning can play a significant role in the quest for greener aviation. Optimizing aircraft trajectories, reducing holding patterns and smoothing out descents are some of the ways to cut aircraft emissions.
Laminaar's ARMS flight planning system gathers real-time information on several key variables, including weather, air space restrictions, aircraft performance and schedule information. The system takes in all those parameters to calculate the optimal flight route that will deliver the fuel and emissions savings Jambojet is looking for.
ARMS is a modular solution that can be customized to suit an airline's needs. Its modules include planning, day of ops, flying, maintenance and analytics services.
Elements include crew and resource planning, flight planning, weather, electronic flight bags, mobile maintenance, air-worthiness, fuel dashboard and an emissions reporter.
From a sustainability aspect, commercial aviation is under attack. Governments are legislating to ban or tax flights under an arbitrarily set distance. While the current focus is on sustainable aviation fuels, a lot can be done right now by using more intelligent systems.
Hopefully, Jambojet will reap the rewards of what it's doing in its operations.