Bahrain-based Gulf Air doesn't have the profile of regional rivals like Emirates and Etihad, but the airline is a longstanding player in the region with over 70 years of flying behind it and a formidable inflight service reputation. Now, slowly but surely, Gulf Air has been rebuilding its operations following the pandemic, most recently announcing flights to two new European destinations.
Seasonal Gulf Air flights to the south of France
First up are seasonal flights between Bahrain (BAH) and Nice (NCE), operating twice a week until September 29. Pushing back in Bahrain every Thursday and Sunday at the eye-watering time of 01:40 is GF025. After an early morning pitstop at Milan's Malpensa Airport (MXP), the flight continues onto Nice, landing there at 09:05.
SIMPLEFLYING VIDEO OF THE DAY
The flight back to Bahrain, GF024, departs NCE at the more civilized hour of 09:50. GF24 also flies via Malpensa and finally touches down in Bahrain at 18:35 on the same day. It's about one hour in the air between Nice and Malpensa and six hours in the air between Malpensa and Bahrain. Gulf Air is using one of its Airbus A321neos on the route. The narrowbody jet seats 166 passengers, including 150 passengers in the main economy cabin and 16 passengers up the front in Falcon Gold class. Nice is Gulf Air's second French destination after Paris.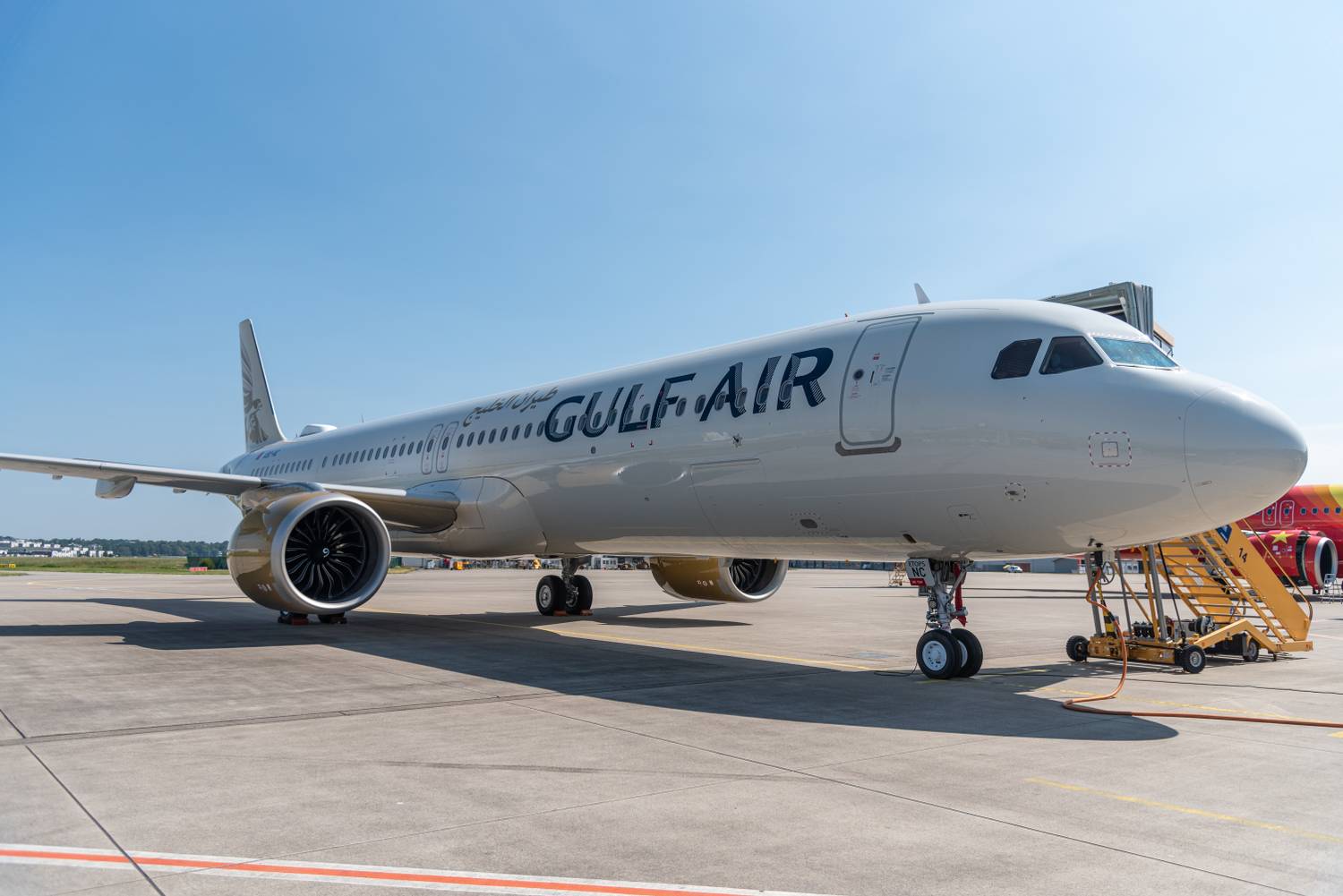 Gulf Air is using an Airbus A321neo for its flights between Bahrain and Nice. Photo: Airbus
"It is very exciting for our national carrier of the Kingdom of Bahrain to reach further places and connect multiple cities in the East and the West to its hub in Bahrain," said Gulf Air Acting Chief Executive Officer Captain Waleed AlAlawi. "On the western side of our network map, we are delighted to launch flights to Nice on the Cote d'Azur as a boutique destination catering to our premium leisure travelers."
Gulf Air's Dreamliners are now flying to Manchester
Also now seeing two Gulf Air flights every week in Manchester Airport (MAN). Unlike Nice, these flights are year-round and use bigger planes – Boeing 787-9 Dreamliners. But like those Nice flights, the Manchester-bound flights also leave at a godforsaken hour. Every Wednesday and Sunday, GF005 departs BAH at 02:10 to make its way up to Manchester, landing at 07:15. The total flying time is seven hours and five minutes.
After just two hours on the ground, the Dreamliner turns around to operate GF004 back to Bahrain, closing the doors at MAN at 09:15 and touching down in Bahrain at 18:20 on the same day. Gulf Air's Dreamliners seat 282 passengers, including 256 passengers in the main cabin and 26 passengers in Falcon Gold class.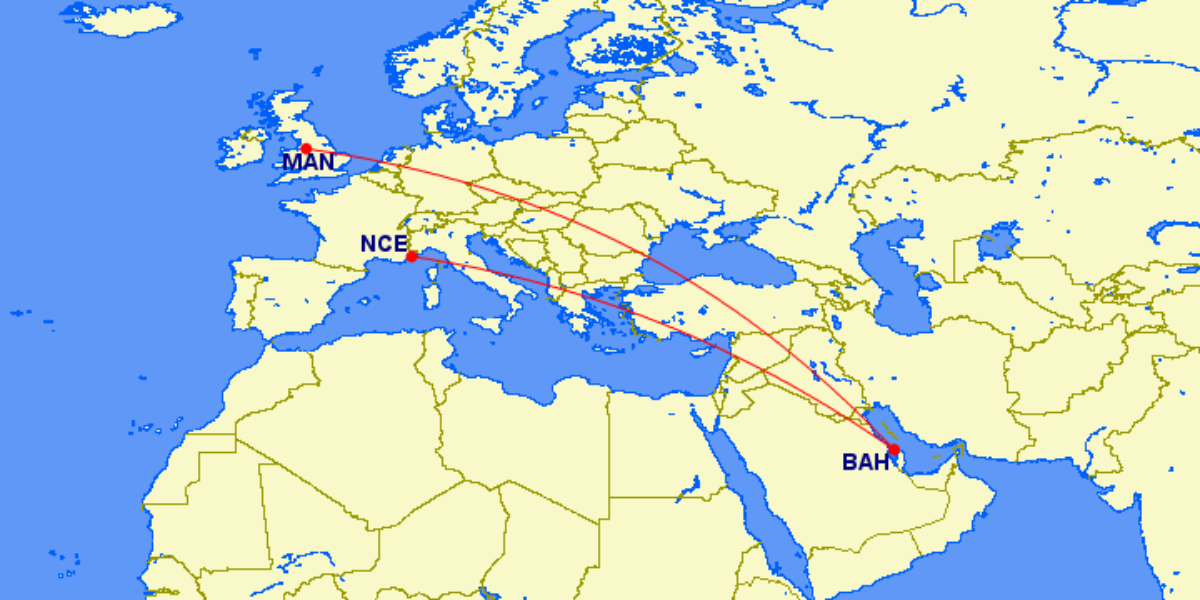 Image: gcmap.com
"It's great news that Gulf Air is starting direct flights from Manchester Airport, and I am sure it will be incredibly well received by the thousands of people in our catchment area that travel there indirectly each year," says Manchester Airport's Interim Managing Director, Ian Costigan.
"The announcement of a third long-haul route coming to Manchester within the last month clearly shows the role we play in connecting the North to key global destinations. Not only do routes like these make travel easier, but they put the region on the international map for trade, economic and tourism opportunities, plus create a wealth of jobs in the process."
Gulf Air's other European destinations include London (LHR), Frankfurt (FRA), Paris (CDG), Milan Malpensa (MXP), Rome (FCO), and Istanbul (IST).