Italy has been Ryanair's most-served country since 2013 when it overtook Spain to become number one. In the past three years, the pan-European ULCC has expanded enormously in Italy, just like Wizz Air. It has benefited from the end of Alitalia, especially domestically; the small scale of ITA, its successor; and great growth-inducing airport deals.
Ryanair: up to 120 737s in Italy?
Speaking at Routes World in Las Vegas, Ryanair's Ray Kelliher, Director of Route Development, said Italy is "a massive opportunity for Ryanair." That's despite adding 30 Boeing 737s in the country this summer, with a lot of routes and flights using non-Italy-based equipment too. This has resulted in its Italy capacity growing by 28% versus the pre-pandemic.
Close
Kelliher, an accountant by trade, foresees aircraft in Italy rising to 90 and potentially even to 120 in time. After all, Ryanair still expects to carry 225 million passengers by the summer of 2025. And large numbers of incoming aircraft – mainly 737 MAX-8-200s – have to be allocated where they make sense and where the return might be greatest.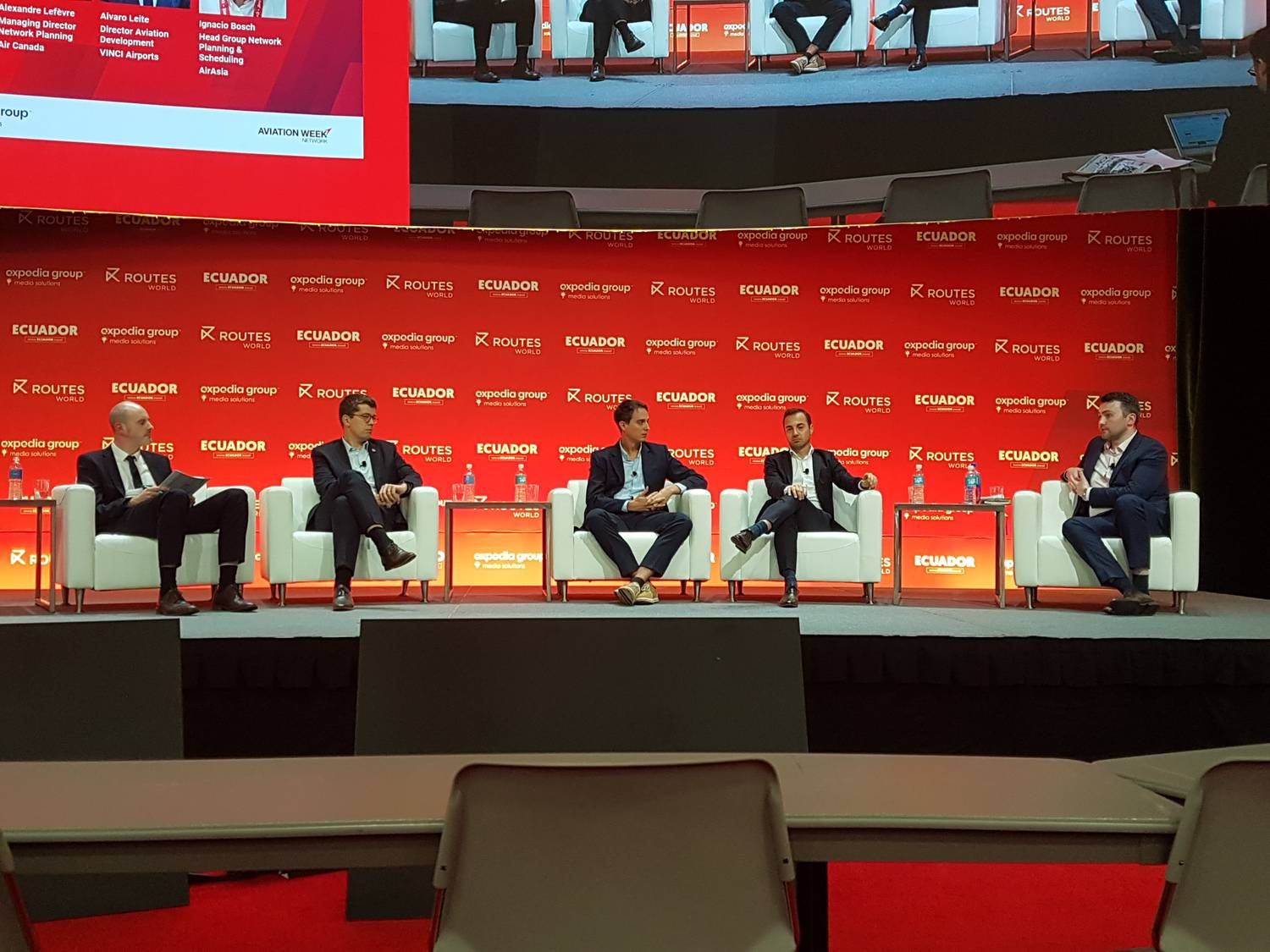 Photo: James Pearson – Simple Flying.
Stay aware: Sign up for my weekly new routes newsletter.
Italy's capacity is up 28%
In the full year 2022, Ryanair has over 57 million seats for sale to, from, and within Italy, according to the latest OAG data. That is up from 45 million in 2019.
It has added a whopping 12 million extra seats in just three years, from 30 new based aircraft, new bases this year at Venice Treviso (once among its largest non-bases) and Turin, and strong growth at most airports. Some 34% of Italy's seats are now by the ULCC, up from 24%.
Ryanair has long been Italy's largest airline overall. It was the biggest internationally for years and became number one domestically in 2021, obviously because of the end of Alitalia – long dominant domestically. Indeed, Ryanair's domestic capacity has jumped by 52% in the past three years, a phenomenal rate from an already high base.
To put it all in context, one in every 2.3 domestic seats is now provided by Ryanair. Internationally, it has one in every 3.3. And that's before its planned growth to 90 aircraft, let alone up to 120.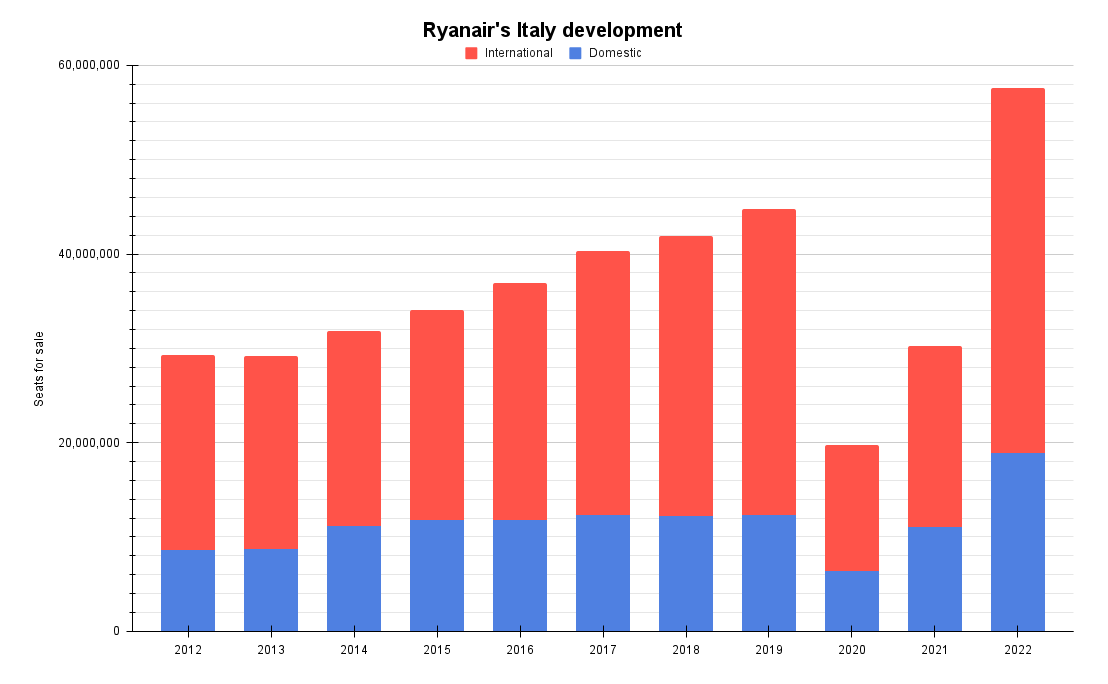 Source of data: OAG. Graph: James Pearson.
Discover more aviation news.
30 Italian airports
Ryanair serves 30 airports in Italy, including Forli, which returned this year. It bases aircraft and crew at 17. Earlier this year, it was mentioned that Ryanair might create a base at Trieste, not far from the border with Slovenia, but it hasn't yet.
As the carrier said at the time: "We are always interested in opening new bases which are dependent on demand, available aircraft capacity, competitive low airport costs, and required operational needs being met."
This year, OAG shows that Ryanair's top ten Italian airports, by roundtrip seats for sale, are as follows:
Milan Bergamo: 12.8 million
Rome Fiumicino: 6.3 million
Bologna: 5.7 million
Milan Malpensa: 4.9 million
Catania: 4.8 million
Palermo: 4.7 million
Naples: 4.5 million
Bari: 4.2 million
Pisa: 3.8 million
Rome Ciampino: 3.7 million
What do you think about it all? Let us know what your thoughts are in the comments.