While the UAE does not impose airspace restrictions, US and EU sanctions on maintenance and insurance have effectively grounded the aircraft.
Oligarchs seeking a safe haven from Western sanctions have found their private jets stranded on the tarmac of Dubai Al Maktoum International Airport as restrictions on insurance and maintenance have effectively grounded the aircraft.
More than 100 aircraft linked to Russian owners have built up at the airport since Russia launched its invasion of Ukraine, confirmed by satellite images and data collected by aviation research firm WINGX.
The United States and European Union have prohibited companies from insuring Russian aircraft or offering fleet management and maintenance services.
Speaking to The Wall Street Journal, Steve Varsana, Chief Executive of private aircraft broker The Jet Business, noted,
"A lot of the Russian-related airplanes have moved to the U.A.E. because you can fly in the airspace there, but once you get there you're pretty much grounded because you can't maintain the airplanes."

Canadian aircraft manufacturer, Bombardier, has axed Russian orders for its private jets and has stopped the export of spare parts for maintenance. Photo: Alec Wilson via Wikimedia Commons
Ongoing sanctions
The United States Department of Commerce (DoC) has enacted strict sanctions prohibiting Russian-linked aircraft from being refueled, maintained, or repaired at the risk of jail time and hefty fines for "anyone anywhere, including within Russia" that violate restrictions. Speaking to Politico earlier this month, a DoC official added,
"If people violate our rules we take action. These are temporary denial orders. We also have the ability to deny people's export [privileges] and companies' export privileges all together under our civil and administrative authority. And then depending on the conduct, there are always potential criminal violations and criminal consequences as well."
Some aircraft registries, including the Isle of Man, have removed jets belonging to high-profile Russians from their registries, requiring reregistration within a friendly nation before flying again.
Aviation companies have established their own restrictions, with Boeing refusing to support any aircraft connected to sanctioned Russians, leaving the jets unairworthy without manufacturers' support. Similarly, Bombardier has canceled multiple Russian orders and moved to ensure that spare parts shipped off maintenance will not end up on sanctioned aircraft.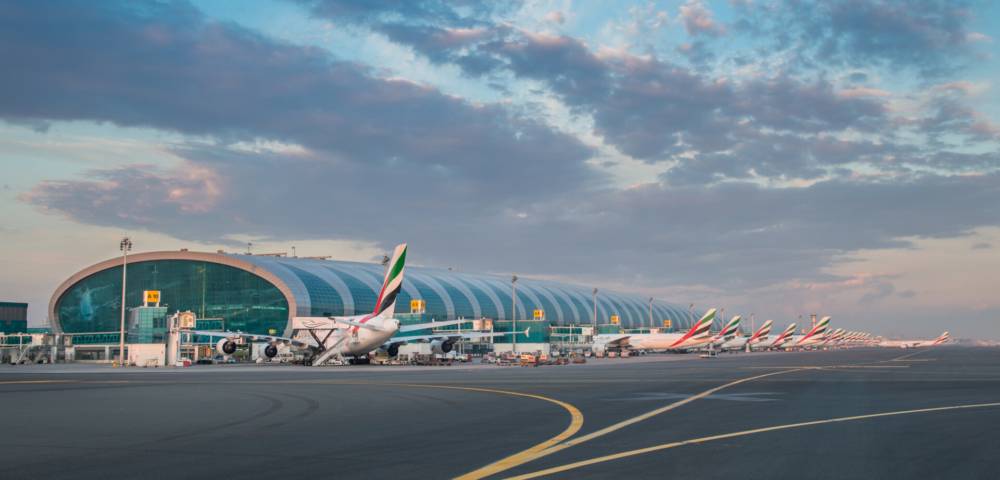 Parking at Dubai's Al Maktoum International Airport is reportedly $1,000 a day. Photo: Emirates
Grounded oligarchs
Roman Abramovich is reported to have landed his $250 million Boeing 787 Dreamliner at Dubai Airport on March 4, prior to restrictions imposed by the US DoC. Reporting by Forbes uncovered that Abramovich's other aircraft, including a Gulfstream G650E and Boeing 767-300, have been grounded at airports across Europe.
Several other oligarchs, including steel tycoon Viktor Rashnikov, businessman Mikhail Gutseriev and entrepreneur Arkady Rotenberg, have also reportedly left aircraft in Dubai.
A Bombardier Global 6500 jet owned by oil tycoon Eugene Shvidler was set to fly from Farnborough Airport, to Dubai on March 8, however, the aircraft was detained by the UK government before departure, stranding it in Hampshire. Speaking on a visit to the grounded jet earlier this week, UK Transport Minister Grant Shapps said,
"Russian oligarchs who have benefited from Putin's regime will not be allowed to just go about their business as they were before this completely unprovoked war started. That's why we're actually stripping this off the British aircraft register. This plane will not be going anywhere for the foreseeable future."
Sanctions have not been limited to just aircraft, with oligarchs having billions in luxury assets seized. Notably, last month a $75 million superyacht owned by Dmitry Pumpyansky was confiscated in Gibraltar.
What should Dubai airport do about the stranded aircraft? Let us know in the comments.